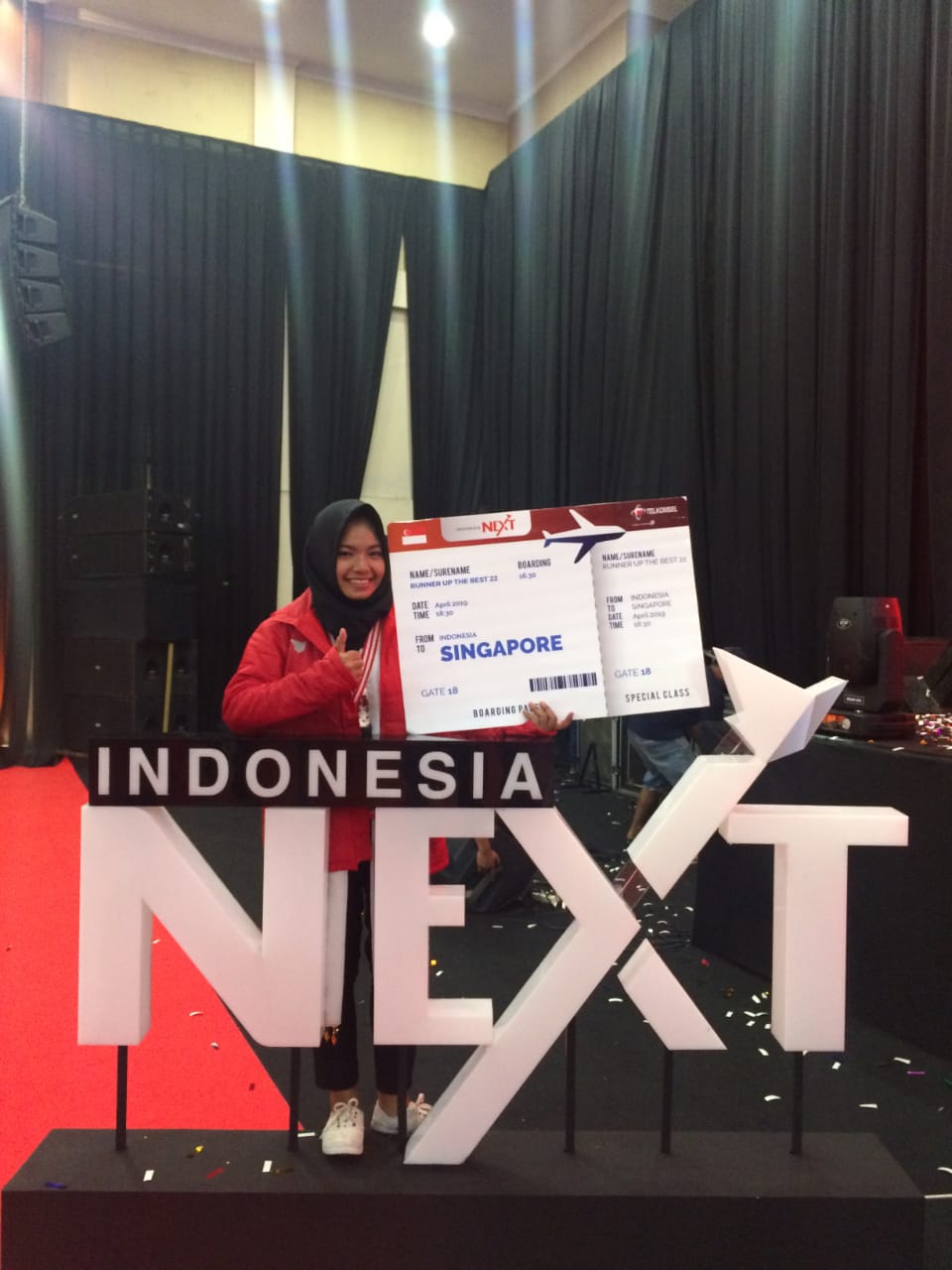 Ayya Agmulia Went to Singapore After Passing the IndonesianNEXT 2018 Competition
Ayya Agmulia Asmarani Islam, a final year student of Bachelor in Economics Study Program, the Faculty of Economics and Business, Universitas Sebelas Maret (FEB UNS), has succeeded in reaching the top 32nd in the IndonesianNEXT 2018 after a tight competition with approximately 17,309 contestants from 21 universities in Indonesia. The best 32nd finalists are from 8 cities: Bogor, Padang, Lampung, Bandung, Makassar, Pontianak, Semarang, and Malang, and Ayya represents the Regional 3: Semarang. For this achievement, Ayya, earns an opportunity to follow a short course in DBS Asia office and the biggest telecommunication firm in Singapore, Singtel (Singapore Telecommunication) on April 2019. While the top 10 contestants follow a similar program to Japan.
The Indonesia Next Competition is a Corporate Social Responsibility (CSR) education program from PT. Telkomsel Tbk, a biggest communication provider in Indonesia. This program gives opportunity to the university students to improve their competency by following an International Certification test, in order to prepare themselves in a global competition. The trainings provided are including Communication Skill (Talk Inc), Critical Thinking, Industry Insight, Digital Content Marketing using Hubspot, Technical Design Presentation using Microsoft Office Powerpoint 2013, and Visual Design and Communication using Adobe Photoshop CS6/CC. With a theme of "Yes, I'm the Next", the IndonesiaNEXT present various seminars and talk-shows, international certifications, communication skills and digital marketing training, and finally the bootcamp program to select the best participant in IndonesiaNEXT 2018.
"In IndonesiaNEXT we are competing to establish a creative idea to develop a better Indoensia through Telkomsel service," she explained to FEB UNS PR staff during the breaks after her thesis consultation. She adds that for the competition, she chooses a topic on "Telkomsel for Millenials", she chooses the topics because she found that many users that using the MyTelkomsel application is millennials, and she feels that MyTelkomsel has a potential to be developed as a super apps.
"Initially, I thought the program is not user-friendly for millennial, therefore I proposed to introduce a special feature that can attract millennial user to make them more engaged with MyTelkomsel application," she explains. "I did not expect that my idea would pass the selection process, or even made me reach the top 32nd position. There are many other excellent contestants with great ideas, but I am grateful to be able to contribute to this institution prestige and proved that UNS BISA (UNS Can)," she ended the interview with a bright smile.