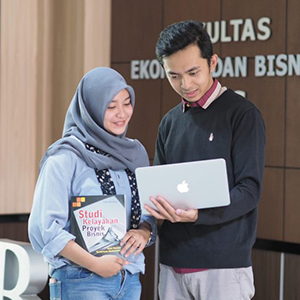 The Undergraduate in Accounting Study Program offers an education and teaching in accounting to support national development. Our program focused on fostering an atmosphere of academic freedom supported with advanced information technology (IT). This is supported with the commitment of our study programs in delivering the graduates with good basic information system and IT (SAP Software certification for the students). In addition, our programs also uphold the ethics code to give birth to graduates who are competent and ready to join in nationally and internationally competition. This is proved with the success of our study programs to prepare graduates who excel in the field of Public Sector Accounting (70% of our graduates are accepted to work in government agencies, collaboration between study programs with Regional Government and Central Government).
Our program has an extensive network and actively participates in professional organizations and higher education networks, both nationally and abroad. To achieve this, the Undergraduate in Accounting Study Program has listed as a member of the Association of Asia Pacific Business School. In addition, our program also received an international recognition and is equal as an international class study program. This is
proved by our effort to get accredited by the international rating agency European Foundation for Management Development – Program Accreditation System.