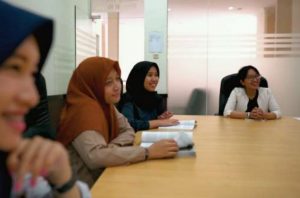 Digital Business Study Program (Undergraduate Program) FEB UNS focused on governance implementation in business and data analytics for the strategic business decision-making process in the governmental or commercial sector. Responding to the scarcity of Digital Business Study Programs in Indonesia, this Program will contribute to the development of science and technology, especially in digital finance, digital marketing, and digital governance. Furthermore, the field of digital finance and digital marketing study has not been widely provided (offered) by universities in Indonesia, either through Diploma, Undergraduate, or Postgraduate degrees. The Program is focused on not only digital business management but also financial technology, which currently develop rapidly.
The Digital Business program is not only focused on hard-skill but also on students' soft-skill as a manager in public sectors, government agencies, and entrepreneurs. These soft skills in digital business governance including Digital Strategy (organizational approach to take advantage of the internet and world wide web technology by considering two aspects: the guiding principle and performance goals), Digital Policy (digital policy as the foundation of online service), and Digital standard (digital standards that ensure optimum digital quality and effectiveness, such as information advancement, strategy, and practical specification of information provided).
Currently, there is a significant market potential in digital business, uncountable opportunities, yet there is only a limited skilled workforce available for the sector. Considering this opportunity, the Study Program will prepare students with commendable digital skills.
Contact
0857-2594-1890 (ela) 0812-1507-2532 (vira)
Instagram: @bisnisdigital_uns
Email: bisnisdigital.uns@gmail.com