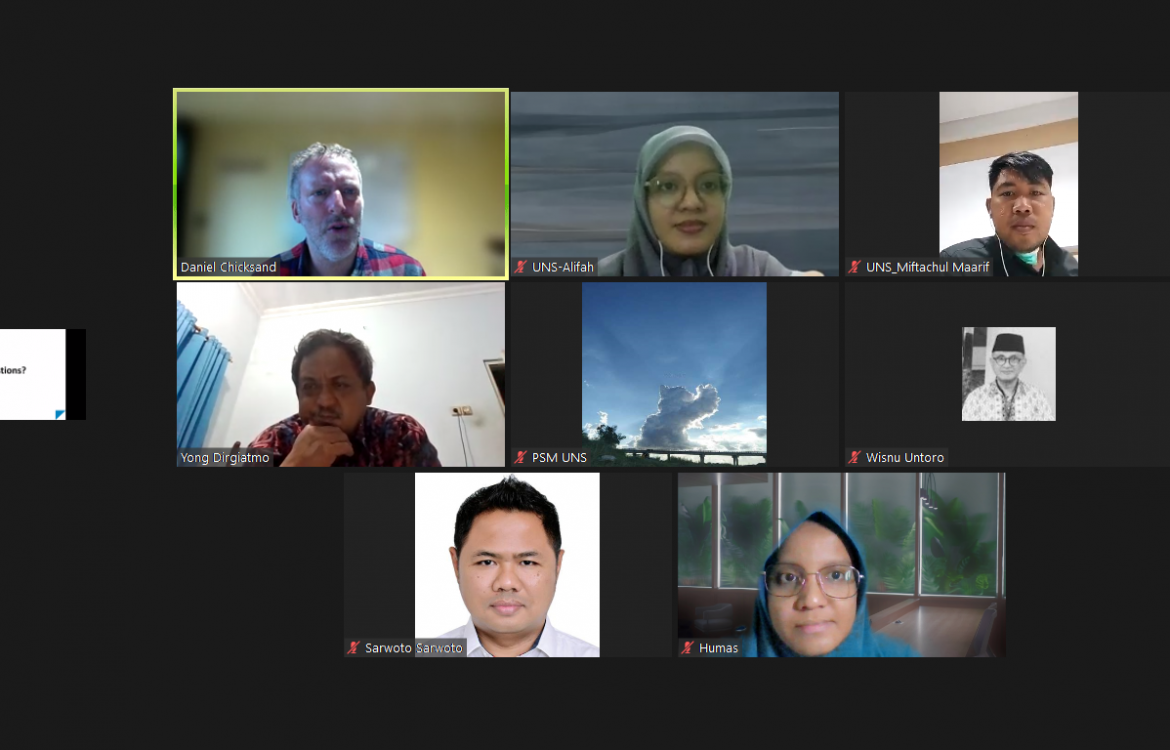 Management Study Program Invited Prof. Chicksand in Workshop: How to Publish Operation Management Papers in Reputable Journals
Management Study Program, Faculty of Economics and Business (FEB), Universitas Sebelas Maret (UNS) Surakarta, invited Prof. Daniel Chicksand from Birmingham Business School (UK) in a Visiting Professor Agenda. The current agenda was part of the Kompetisi Kampus Merdeka Program (PKKM) 2022, conducted virtually on Thursday, October 20th, 2022.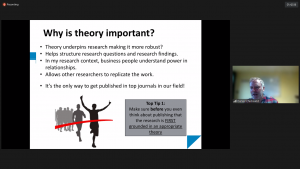 The event went interactively with the attendance of the lecturers of operation management study from the Management Study Program and was led by Alifah Fibayani, MSc., as the Moderator. Opening the material presentation, Prof. Chicksand invited the participants to answer a question regarding the journal ranking system in Indonesia, whether Indonesia follows the Scopus and Scimago system or adopts a specific system in the country. Following the opening question, the Professor explains the first step to be prepared by a researcher before publishing their research articles. "Right now, getting published in a reputable international journal is getting harder. Before starting the publication process, it is better if you have a specific theme for you to follow, either to develop the existing research or to establish your expertise identity as a researcher," reveals Prof. Chicksand.
Further, Prof. Chicksand delivers another question for material discussion regarding the reason for getting published. In line with the participants' answers, in this case, Prof. Chicksand states that one of the reasons for publication is to disseminate potential solutions to the problems in the community or business.
The discussion is followed by the stages or aspects that need to be considered by the author in choosing a publication outlet. Two aspects that need to be considered in choosing the right outlet are the journal's impact factor and ranking. Aside from journal selection, Prof. Chicksand also shares specific reasons for a publisher to reject a manuscript. "Sometimes the problem lies in how you formulate the research problem because sometimes authors like to understate the contribution of their research.
Concluding the discussion, Prof. Chicksand delivers four top tips for a successful publication process. The first is to choose the right theory for the planned research. The second is to establish a continuous process from article preparation through collaboration. Third, the author and researcher need to establish resilience and flexibility, and lastly, a researcher needs to learn from their past mistake. "Sometimes we need to build a resilient and persistent stance, while at the same time, we need to quickly move on from a rejection," reveals Prof. Chicksand.
The agenda, which is filled with interactive discussion and experience sharing, will be followed-up with participants' article review by Prof. Chicksand.