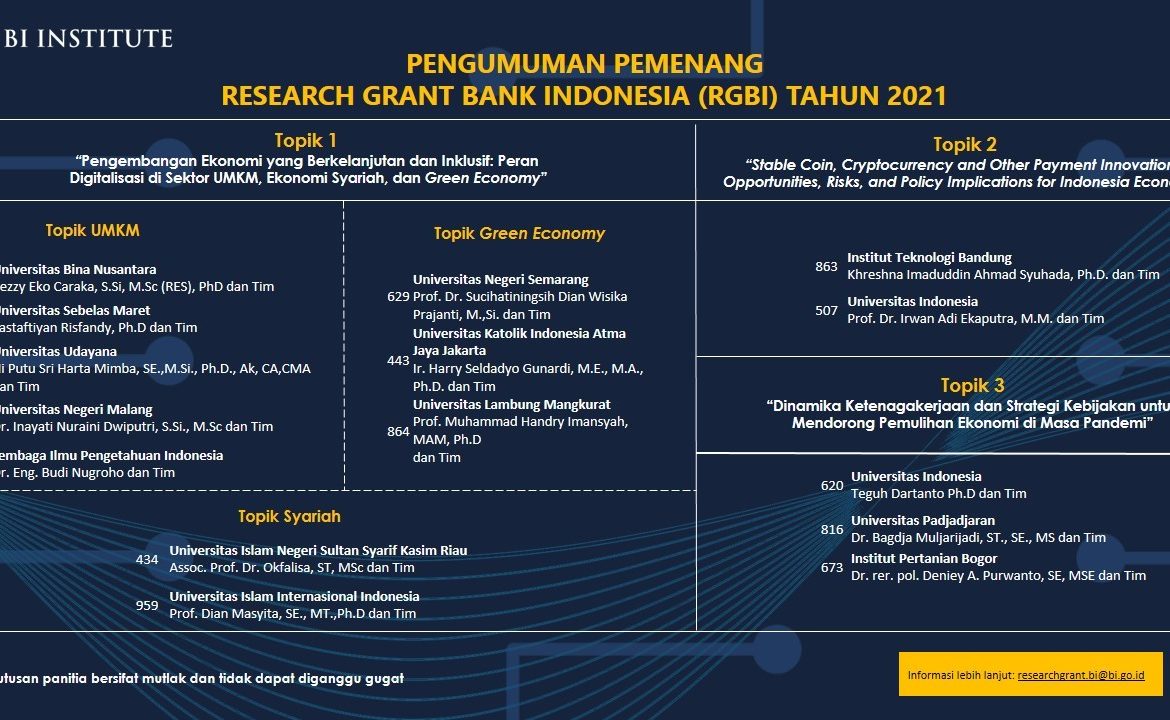 FEB UNS Researcher Won Bank Indonesia Research Grant 2021
Faculty of Economics and Business (FEB) Universitas Sebelas Maret (UNS) Surakarta faculty member, Tastaftiyan Risfandy, S.E., M.Sc, Ph.D., successfully won the Research Grant Bank Indonesia (RGBI) 2021. RGBI is an international research competition grant from Bank Indonesia. In his RGBI research proposal, Tastaftiyan has a three-member team, himself as research team leader, and Prof. Dr. Mansor Ibrahim (International Center for Education in Islamic Finance/INCEIF-Malaysia) and Inas Nurfadia Futri, S.M. (UNS) and research team members.
Their research topic "Sustainable and Inclusive Economic Development: the Role of Digitalization in MSME Sector," become one of the winners over 1,334 international applicants with total 454 proposals. and received a Bank Indonesia research grant for MSME topic.
The funding is provided annually under a specific topic each year. This year the RGBI includes three different topics, namely, (1) the Sustainable and Inclusive Economic Development: the role of digitalization in MSME, Sharia Economic, and Green Economy; (2) Stable Coin, Cryptocurrency and Other Payment Innovations: Opportunities, Risk, and Policy Implication for Indonesia Economy; (3) Employment Dynamics and Policy Strategy to Support the Economic Recovery During the Pandemic.
When contacted by the FEB UNS Media team, Tastaftiyan reveals that his team is confident if the research plan was prepared according to the correct methodology and providing a contribution according to the current issue, they will have a great opportunity to compete for funding grants or publication opportunity.
"Our team strive to take on the current issues in Covid-19 pandemic and Digital Finance, as well as its contributions. Alhamdulillah, finally our team can become one of the winner in RGBI," Tastaftiyan states.
Tastaftiyan's study is expected to provide a suggestion for Indonesian economic authority in preparing a future policy that supports the development of digital finance in Indonesia. (Humas-FEB)