Entrepreneurship Startup Training for FEB UNS Students
Students of the Faculty of Economics and Business (FEB UNS), who are divided into two classes, are participated in a hybrid Entrepreneurship Startup Training. The on-site training was conducted in two classrooms, room no 2202 and 2203 FEB UNS, while the online sessions are available through a Zoom Cloud Meeting, Thursday (14/10/2021).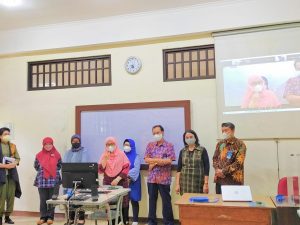 Prof. Asri Laksmi Riani, M.Si., as the Chairman of the Entrepreneurship Laboratory (KWU Lab), in her report, states that the training is part of the training series organized by KWU Lab. "The Entrepreneurship training will last until mid-November 2021. The training began with the recruitment of Entrepreneurship trainers from FEB lecturers, which were selected from each study program. The recruitment is followed by Training of Trainer (TOT) that invites several speakers, preparation of modules, training implementation, preparation of business proposals, presentations, mentoring and evaluation," said Prof. Asri.
Further, Prof. Asri said that the training involves 18 FEB UNS lecturers as training instructors, 8 Academic Support Staff, and 29 students. Out of the 29 students who took the training, 24 students joined the on-site session, and five others are joining through an online meeting platform. Students are divided into six groups within three business sectors, namely fashion, culinary, and craft.
The main objective of this activity is the achievement of UNS' Main Performance Indicator (IKU), which specifies the number of students who start new businesses. Hence, this training is likely to be a pilot project for the upcoming training.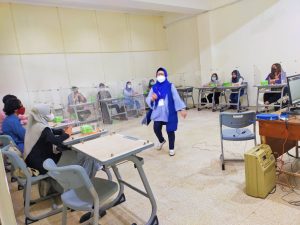 In line with Prof. Asri, the Vice Dean of Academic, Research and Student Affairs, FEB UNS, Prof. Dr. Izza Mafruhah, SE, M.Si. in her speech states that a higher education institution has eight tasks within the IKU accomplishment, which includes graduates with decent jobs, entrepreneurship initiative, or further studies. Entrepreneurship is one of the schemes under the Merdeka Belajar Kampus Merdeka (MBKM) Program to prepare students with an entrepreneurial spirit.
Prof. Izza hopes that the training facilitated by FEB UNS can be beneficial and creating added value for the students. The benefit should not be limited to the Certificates of Diploma Companion (SKPI) that will be given to all participants but also the knowledge and the strategies or tricks in entrepreneurship. To develop entrepreneurship, students need to collaborate with students from other faculties in order to get better results.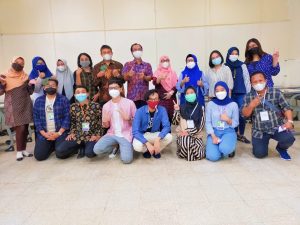 Meanwhile, Drs. Rohman Agus Pratomo, the Head of Academic and Student Affairs Bureau in UNS, appreciates the entrepreneurship training conducted by FEB UNS through a hybrid system. With this training, students are expected to compete at the university level as well as at the national level.
"With an early start in entrepreneurship activities, in the following year, students can participate in competitions at the university, and also the national level. Business planning prepared (by the students) was cool, can be implemented and developed. After the students are graduated, they can become entrepreneurs, so they will create jobs and employment and are not looking for jobs. Therefore, they can recruit their friends, neighbors, and many others. It will also certainly contribute to their alma mater university achievement," he concluded. (Humas FEB)