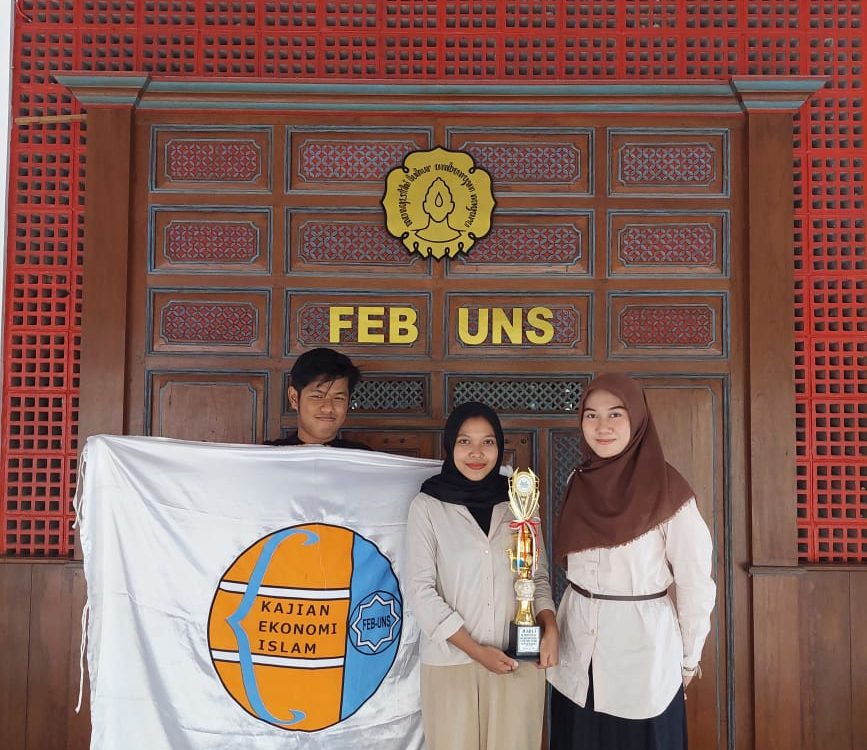 Taking on Influencer Micro Marketing Optimization Platform for MSME, FEB UNS Student Won First Place in Business Plan Competition
Splendid achievements are carved by students of the Faculty of Economics and Business (FEB), Universitas Sebelas Maret (UNS) Surakarta, within various championships. One of these achievements was accomplished by the FEB UNS Student Team consisting of Kgs M Mullah Ibadurrahman, Hanun Aulia Yasmin, and Nufika Mariyatul Kiptiyah.
Ibadurrahman (Ibad) and the team members, succeeded in winning first place in Business Plan Competition hosted by KOPMA BM Politeknik Negeri Semarang (Polines) on January 2023.
Inflane (Influencer Lane): 'Influencer Micro Marketing Optimization Platform for MSME to Support Golden Indonesian Digital Talent,' is selected as the topic for the FEB UNS team to their glory. The platform is useful for business planning specifically as a marketing media liaison platform between influencers and MSMEs.
Ibad revealed to the feb.uns.ac.id team that in the competition, the team competes to win and learn from their experiences from previous championships, learning from the suggestions from the judges, and other participants' excellent presentations. Moreover, the team also took several courses out of university.
The rivalry is quite tight in the final stages with only 10 teams from all across Indonesia, which requires the team to work harder.
"We never expect to win a championship in our last challenge, especially because it is quite hard to win, thus, this opportunity gives our team a chance to learn more and deepen each member's knowledge and skill," he states.
Together with the team, Ibad has brought home some medals for FEB UNS, among others First Champion in Business Plan National Shariah Economic Competition UIN RMS Surakarta and Second place in National Scientific Writing Annual Conference Economics Forum (ALCOFE) UNS on October 2022.
According to him, the commitment of the team members becomes the key to great actions and it is not an easy feat to find members with the same vision and mission. Hence, it is important to always focus and continuously improve self-competency to achieve future dreams.
The student who was the Head of Islamic Economy Study (KEI) FEB UNS always remembers a message from his senior to be a champion to stay confident with your initial ideas. Starting with a positive environment and supportive team members, finally, he can train and develop his self-confidence.
"A message I want to convey to my fellow students, dare to dream big because this learning experience we gain during our study will never get repeated and there are many opportunities available. Moreover, it is important to remember to stay open-minded, always eager to learn something new, and to be responsible to the end of the process," he concluded.