Reviewing Entrepreneurship Program, Management Study Program Invites Visiting Professor From Malaysia
In line with the Merdeka Belajar Kampus Merdeka (MBKM) Program launched by the Ministry of Education and Technology, the Bachelor in Management Study Program, Faculty of Economics and Business (FEB), Universitas Sebelas Maret (UNS) Surakarta, held a virtual Visiting Professor inviting Associate Professor Dr. Yuhanis Abdul Azis, on Thursday, 16 December 2021, via Zoom Cloud Meeting. This agenda is part of a series of Visiting Professor programs within the 2021 Independent Campus Competition Program (PKKM).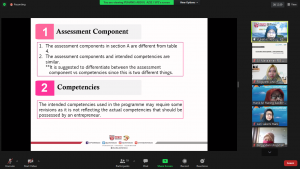 The meeting agenda entitled 'Curriculum Development in Entrepreneurship' discusses Entrepreneurship MBKM program implementation, which the Study Program currently hosts. The MBKM program is an independent study program that provides opportunities for students to study material or topics according to students' interests. Eleven students are currently participating in the MBKM entrepreneurship program, divided into 8 (eight) groups.
On this occasion, Prof. Yuhanis presented the review outcome related to the entrepreneurship program conducted by the Bachelor in Management Study Program FEB UNS, summarized into feedback, recommendations, and conclusions.
Related to the course rubric development, Prof. Yuhanis stated that the rubric prepared by the Management Study Program was quite good. "The Assessment Rubric has been prepared well by the study program, although there is still room for improvement such as the importance of maintaining consistency of the terms used and minor revisions to ensure that the rubric can reflect the subject being assessed."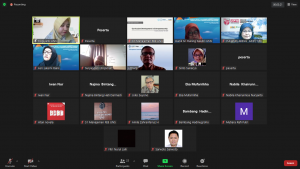 Further, Prof. Yuhanis admitted that the report prepared by the study program seemed quite concise. Thus, further elaboration can be added to provide more detailed information and guidelines for the appointed student supervisor. Regarding the final project system applied in the program, Prof. Yuhanis emphasized the importance of the expected targets of the Final Assignment assessment, whether students are expected to do research or not. For the Final Assignment, an assessment rubric is also required.
Regarding the syllabus, Prof. Yuhanis revealed three findings points: information on Expected Outcome (Target) that need adjustment, subject suitability, naming of course subjects, and the assessment system. After delivering the review conducted by Prof. Yuhanis, the event continued with a question and answer session, led by Risgiyanti (Lecturer of Management Study Program) as the session's moderator, between Prof. Yuhanis and participants, consisting of lecturers from the FEB UNS Management Study Program.
Reporter: Aulia
Editor: Humas FEB