FEB UNS International Webinar Discusses Economic Recovery and SDGs Insight from COVID-19 Pandemic
The Faculty of Economics and Business (FEB) Universitas Sebelas Maret (UNS) Surakarta held an International Webinar titled "Economic Recovery and SDGs Insight from COVID-19 Pandemic", Thursday 24 February 2022, in a Hybrid manner at Hall IV Building FEB UNS and Zoom Meeting. The webinar presented two keynote speakers, namely Doni Primantono Joewono, who currently serves as Deputy Governor of Bank Indonesia, and Muhammad Ichsanuddin as Deputy Commissioner of OJK in the Non-Bank Financial Industry (IKNB), and three invited speakers.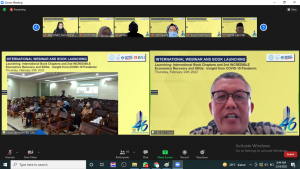 The five speakers will discuss in depth the condition of economic recovery in Indonesia, the ASEAN region, and its implications for the achievement of Sustainable Development Goals (SDGs). The three invited speakers are Prof. Dr. Tamat Sarmidi, Professor of Economics, the National University of Malaysia with a presentation on economic recovery and SDGs in Malaysia, ASEAN, and its relation to SDGs; Dr. Arianto A. Patunru, Crawford School of Public Policy, Australian National University with material on the relevance of the SDGs and post-pandemic conditions especially in the food security sector; and Prof. Dr. Rahmawati, Professor of Accounting FEB UNS with material entitled "Optimisation of BUMDES in the Processing of Tourist Waste in Berjo Karanganyar."
The Dean of FEB UNS, Prof. Djoko Suhardjanto, in her remarks, expressed her gratitude to all parties involved in organizing the international webinar. Prof. Djoko stated that the process of Indonesia's economic recovery in 2021 has brought a message to all Indonesians to remain optimistic.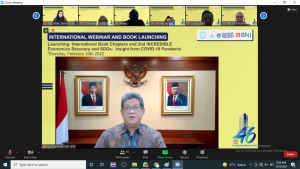 In addition to the webinar, the agenda on the day also included the official launching of the book "Indonesia Economic Recovery After Covid-19: Multiple Aspect Approach," written by FEB UNS Faculty members, which also contains chapters from academics from partner universities such as Prof. Siong Hook Law from Universiti Putra Malaysia, as well as Doni Primantono Joewono, and Muhammad Ichsanuddin as editors.
The webinar that lasted more than two hours was concluded with a question and answer session and the launch of the Second International INCREDIBLE Conference website (2nd International Congress on Regional Economic Development, Information Technology, and Sustainable Business-INCREDIBLE) to be held on August 25-26, 2022, as part of the UNS 46th Anniversary celebration. (Humas FEB)