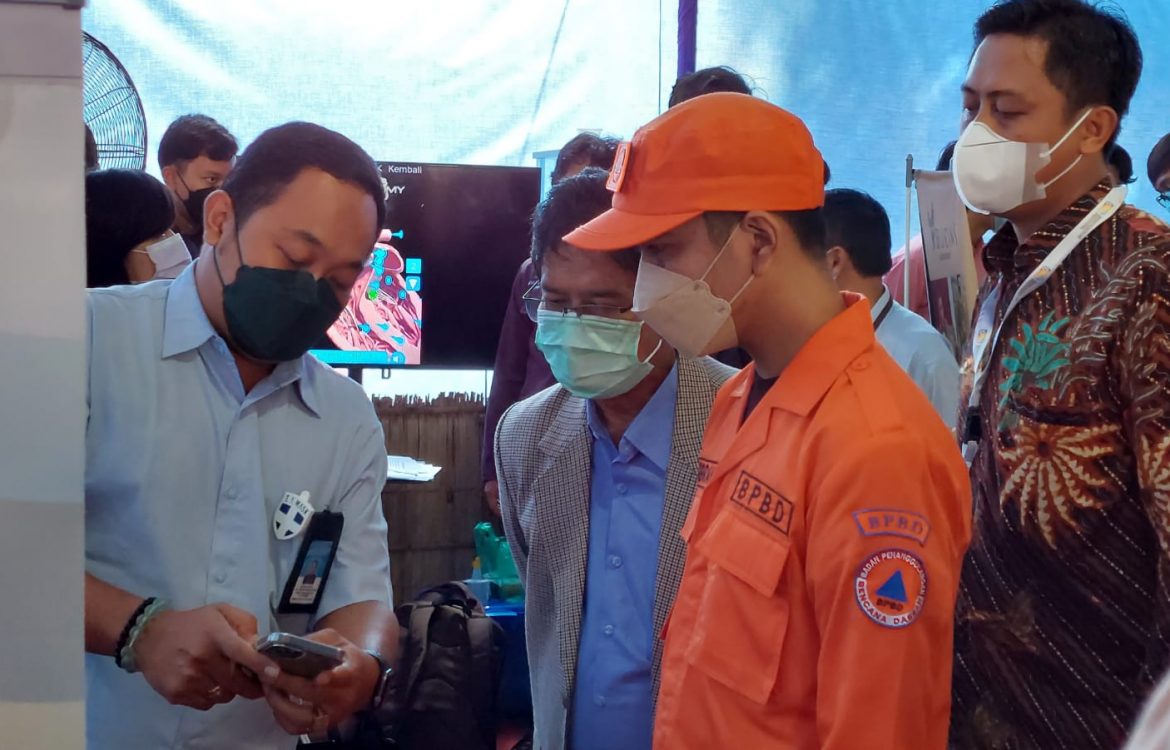 FEB Participations in UNS Innovation Festival 2021
The Faculty of Economics and Business (FEB), Universitas Sebelas Maret (UNS), participated in the Innovation & Business Expo at the GPH Haryo Mataram Auditorium UNS, Monday to Tuesday, 13-14 December 2021. The FEB UNS team displayed various products from the Entrepreneurship Program, Matching Fund, and Tourism Educamp (EWP) at the expo, which was also attended by Micro, Small, and Medium Enterprises (MSMEs) in Solo Raya. One of the FEB students, Eklisia Exsis In Samodra, who actively participates in the FEB UNS Entrepreneurship Program and is joining the expo for the first time, is very happy with this activity.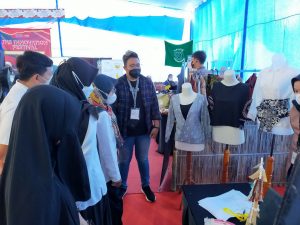 "My motivation for participating in this expo is to test the product, hoping to meet investors, who will be interested in developing this product together with us. Starting from this business establishment, we have participated in several programs hosted by FEB UNS to get product suggestions and evaluations from the practitioners or lecturers, whether the products are feasible or not, and the response given is excellent, so we are enthusiastic about doing so participate in this expo. Our target is to expand this business for export," the Development Economics Study Program student said.
Eklisia Exsis In Samodra, usually known as Exsis, along with two other students, has created some fashion products, such as Outer, Jumputan, Crop Top Tenun, and Obi Belt Asmat. The four products have passed the Merdeka Belajar Kampus Merdeka Program (MBKM) assessment and will be marketed through e-commerce. Other products displayed were shoes and bags from the Matching Fund Program. There were also souvenirs and the Smart Cash Application, available on the Playstore and Appstore, from the Tourism Entrepreneur Educamp Program.
The Innovation & Business Expo is one of the activities in a series of UNS Innovation Festival organized by the Directorate of Innovation and Downstreaming, Universitas Sebelas Maret (UNS), in collaboration with the Ministry of Social Affairs, Ministry of Tourism and Creative Economy, Ministry of Trade, and the Apindo.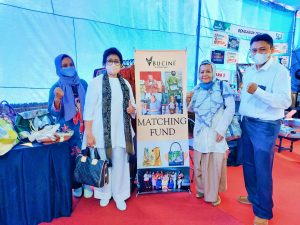 In his opening remarks at the Expo opening ceremony, Monday, December 13, 2021, the Vice-Rector for Research and Innovation Affairs, Prof. Dr. Kuncoro Diharjo, ST, MT., said this festival was supported by various initiatives from the UNS Startup Program with its Semesta Program that provide incubation assistance for 37 tenants. The synergy established with the Ministry of Tourism and Creative Economy facilitates 135 legal entities for MSME in Indonesia and IPR registration services implemented in 5 cities. Together with the 'Indonesia Direct' in developing a Digital Startup Platform, Tourism Educamp (EWP) with 5 (five) priority tourist destinations, namely Lombok, North Sulawesi, Labuan Bajo, and Borobudur. This collaboration is strengthened with individual assistance for MSME provided by the Ministry of Social Affairs to improve their competency to strengthen MSMEs' economic power.
UNS actively involves students in these entrepreneurship activities to help creative economy practitioners while providing learning opportunities for students to learn entrepreneurship directly.
"Today, we can exhibit numerous creative industry products, and hopefully, in early 2022, we can enhance this program by strengthening business establishments or registration of Intellectual Property Rights (IPR) assistance services; hence, supporting the strengthening of the Indonesian economy. All those products can also be integrated into the existing market potential to support the strengthening of the tourism industry," he said.
The peak activity of the UNS Innovation Festival was held on Tuesday, December 14, 2021, which was attended by the Mayor of Surakarta, Gibran Rakabuming Raka. The Mayor of Surakarta directly inspected the stand for innovative products. (Humas FEB UNS)