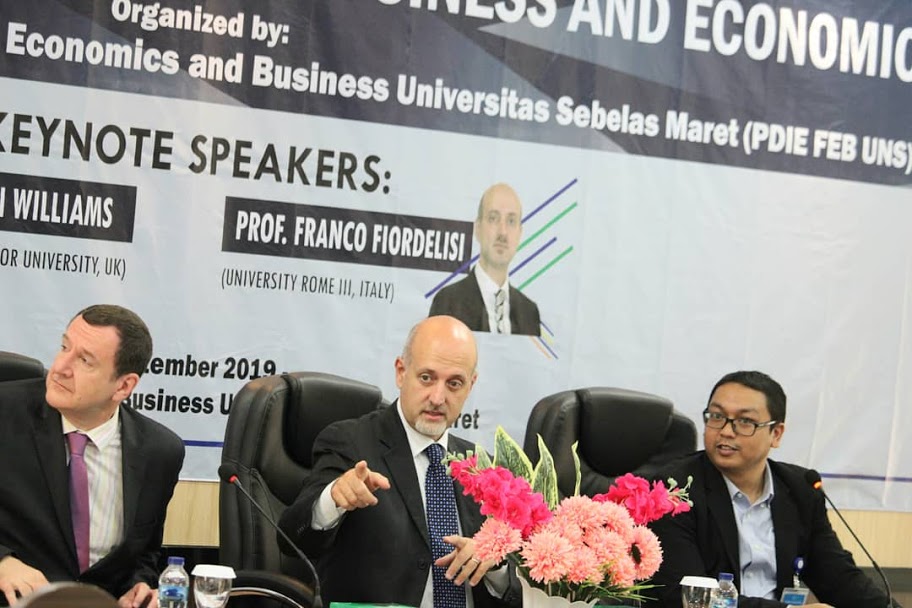 The Doctoral Program in Economics Study (PDIE) FEB UNS Hosted an International Colloquium on Business and Economics
Eighty seven (87) research articles are presented in the International Colloquium on Business and Economics hosted by the Doctoral Program in Economic Study (PDIE) the Faculty of Economics and Business, Universitas Sebelas Maret (FEB UNS), on Tuesday, September 24th, 2019. Professor Franco Fiordelisi from University of Rome III and Professor Jonathan Williams the Head of Bangor Business School present a keynote speech for the occasion.
The colloquium aims to disseminate the doctoral students from the PDIE FEB UNS research. The best paper is awarded a best paper award after reviewed by the scientific board. The Director of PDIE Program FEB UNS, Prof. Dr. Rahmawati, M.Si, Ak, acknowledge to 11 (eleven) universities partner that has supported the event, namely Business and Economic Asia Pacific (BESIPA), Unversitas Bangun Nusantara Sukoharjo, Universitas Slamet Riyadi Surakarta, Universitas Pembangunan Nasional Veteran Yogyakarta, Universitas PGRI Yogyakarta, Universitas Islam Batik Surakarta, Universitas Gajayana Malang, Universitas Surakarta, Universitas Bhayangkara Jakarta, Universitas Gorontalo dan Universitas Darma Cendikia Surabaya.