FEB UNS Organization Structure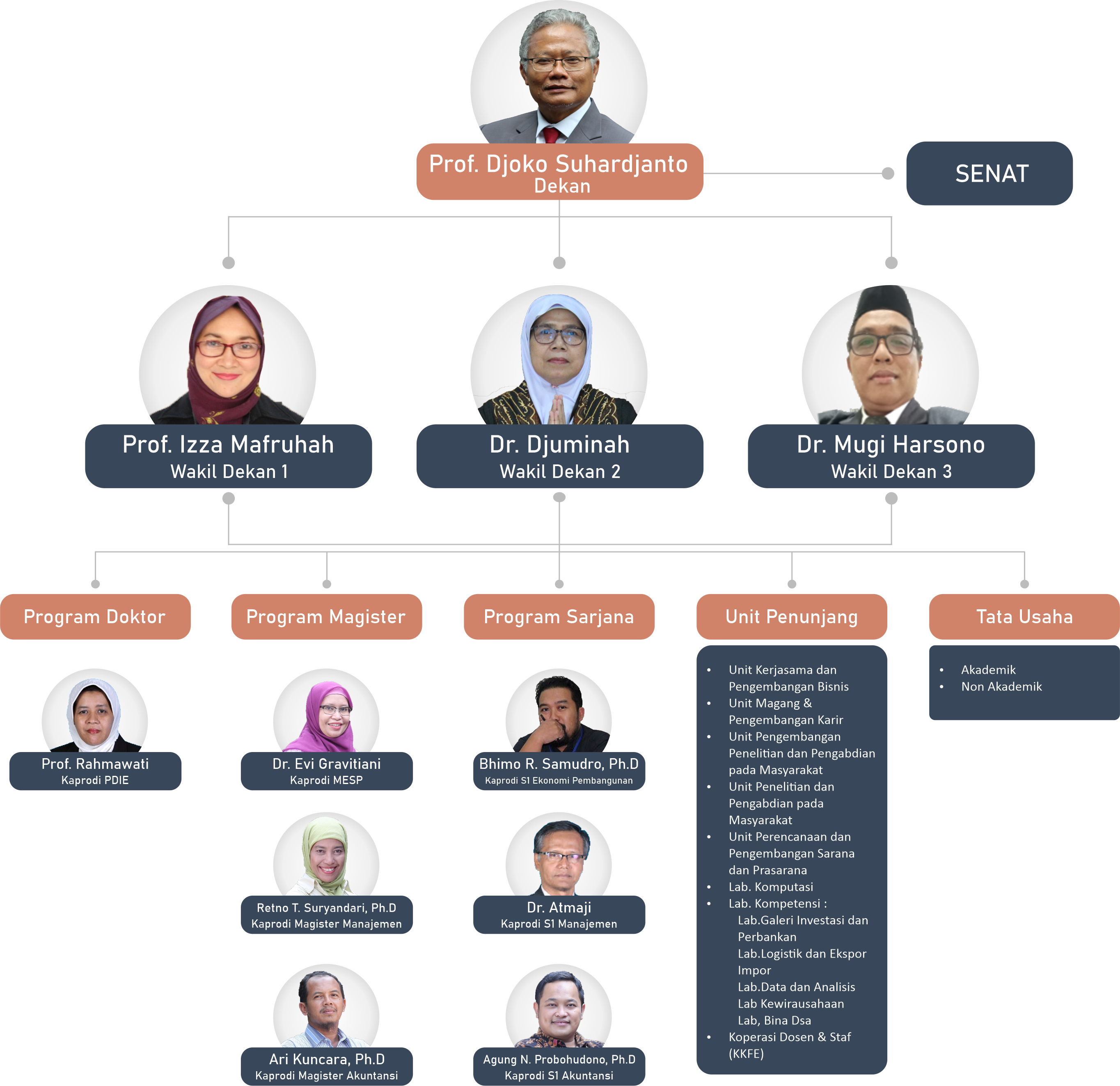 Established when the Universitas Negeri Surakarta Sebelas Maret is officially announced as Universitas Sebelas Maret (based on the Republic of Indonesia President Decree Number No. 55 of 1982), the Faculty of Economics and Business (FEB UNS) offers excellent education program at bachelor, master, and doctoral degree. FEB UNS currently has 7 study programs divided into three bachelor programs, three master's programs, and one doctoral program. All study programs have been accredited by the Indonesian National Accreditation Board for Higher Education (BAN-PT).
With more than 2,000 active students annually, FEB UNS has more than 13,000 alumni at bachelor level and 2,000 alumni for the postgraduate program. Supported by more than 132 faculty members and extensive alumni network, FEB UNS holds a significant role in Indonesia national development. As a faculty under the UNS Surakarta, FEB UNS hold autonomous authority in curriculum and teaching, strategic planning, human resource development, budget allocation, and infrastructure management.
FEB UNS has establish its vision to be reputable faculty in economics and business at international level. FEB UNS establishes partnership with international universities and institutions such as Purdue University (United States), University of Limoges (France), University of Twente (Netherlands), University of Portsmouth (United Kingdom), Science Po Toulouse (France), dan Curtin University Australia. FEB UNS has become a member of the Association to Advance Collegiate Schools of Business (AACSB). In 2016, the Master Program in Management FEB UNS is accredited by the Alliance on Business Education and Scholarship for Tomorrow (ABEST21). FEB UNS also organizes various reputable academic events at national and international levels.
Our profile and achievements