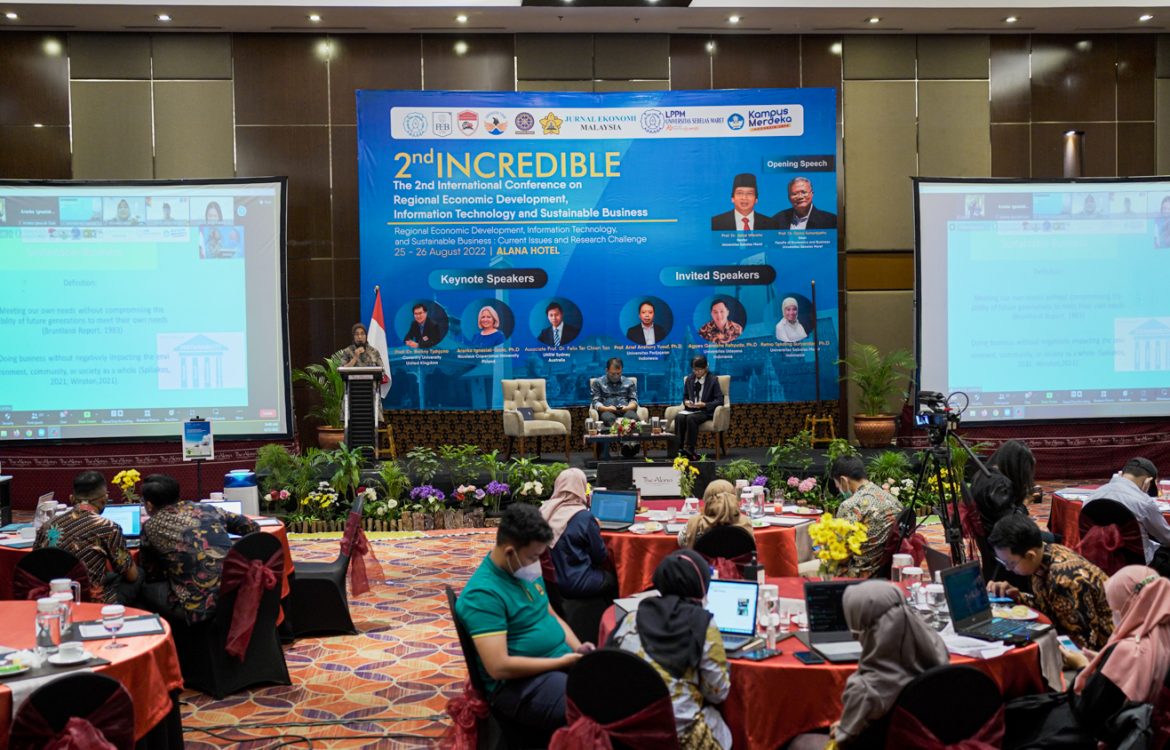 Discussing Emerging Issues on Sustainable Economy, Natural Resources and Environment, and Green Economy, FEB UNS Hosted the 2nd INCREDIBLE
Faculty of Economics and Business (FEB), Universitas Sebelas Maret (UNS), in collaboration with the Indonesian Students Association (PPI), FEB Universitas Shia Kuala, FEB University Udayana, Faculty of Economics Universitas Tidar, and Journal of Economics Malaysia, held The 2nd International Congress on Regional Economic Development, Information Technology and Sustainable Business (INCREDIBLE), 25-26 August 2022, in a hybrid meeting at Alana Hotel Solo and through zoom cloud meeting as well as FEB UNS Youtube channel.
The conference, which was attended by more than 350 participants from academics and practitioners, invited three keynote speakers, namely Aranka Ignasiak-Szulc, Ph.D. (Nicolaus Copernicus University, Poland); Prof. Dr. Benny Tjahjono (Coventry University, UK); and Associate Prof. Dr. Felix Ter Chian Tan (UNSW, Australia); and three invited speakers, Prof. Dr. Arief Anshory Yusuf (Universitas Padjajaran, President IRSA); Agoes Ganesha Rahyuda, Ph.D. (Universitas Udayana); and Retno Tanding Suryandari, Ph.D. (UNS).
In his remarks, the Dean of FEB UNS, Prof. Drs. Djoko Suhardjanto, M.Com. (Hons)., Ph.D., Ak., said that since February 2022, FEB UNS has invited numerous partners to discuss the current international conferences organization. The FEB Dean also expressed his deepest appreciation to the speakers, writers, and invited guests who participated in the conference.
"We convey our greatest appreciation to all authors who will present their research results for the next two days' agenda. There are about 105 research articles that will be presented at this conference. In particular, we also express our appreciation to all invited speakers and guests. Hopefully, through this international conference, participants can gain new knowledge from the invited speakers and also participate in the entire series of conference agendas," he hoped.
In both the welcome speech and the event opening remark, Prof. Dr. Jamal Wiwoho, S.H., M.Hum., as the UNS Rector, stated that regional economic development has been widely discussed among academics to reveal the latest issues on sustainable economy, natural resources and environment, and green economy. In particular, information and communication technologies, and sustainable business will boost local economic growth in the long term.
Therefore, current issues and research challenges in economic development, information technology, and sustainable business need to be discussed extensively. UNS, as one of the higher-ranking universities in Indonesia, pays more attention to these issues.
According to him, FEB UNS has taken the right steps by organizing a conference that raises strategic issues on regional economic development, information technology, and sustainable business in an international conference on August 25-26, 2022, which is known as the 2nd INCREDIBLE. (Humas FEB UNS)