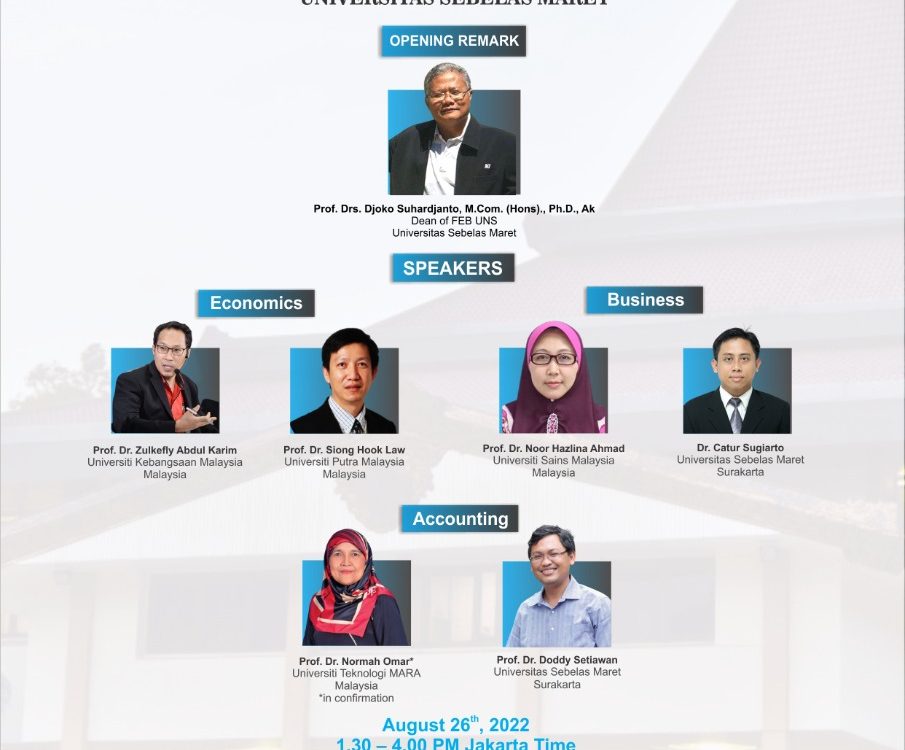 The 2nd INCREDIBLE "A Special Workshop on Economics, Business, and Accounting: Current Issues And Research Challenges"
1:30 pm - 4:00 pm
Daring
Public
ABOUT EVENT
The 2nd INCREDIBLE
"A Special Workshop on Economics, Business, and Accounting: Current Issues And Research Challenges"
We sincerely invite all interested national and international experts and enthusiasts from universities, institutions, organizations, businesses, and the communities themselves to connect and transmit knowledge in publishing a high quality paper with professionals in their fields! Grab this INCREDIBLE opportunity and get your chance to interact with the experts on three sessions INCREDIBLE workshop. Mark your calendar and take your seat right away in the Special Workshop.
🗓 Will be held virtually on August 26th, 2022
⏰ 1.30 – 4.00 PM (Jakarta Time)
Kindly click this link to join the Zoom Meeting:
https://bit.ly/2ndINCREDIBLE25-26juli2022
💳 FREE, no registration fee!
👤Speakers:
• Session 1 : Economics
Prof. Dr. Zulkefly Abdul Karim
(Universiti Kebangsaan Malaysia)
Prof. Dr. Siong Hook Law
(Universiti Putra Malaysia)
• Session 2 : Business
Prof. Dr. Noor Hazlina Ahmad
(Universiti Sains Malaysia)
Dr. Catur Sugiarto
(Universitas Sebelas Maret)
• Session 3: Accounting
Prof. Dr. Normah Omar
(Universiti Teknologi MARA)
*in confirmation
Prof. Dr. Doddy Setiawan
(Universitas Sebelas Maret)
If you are interested to publish your paper with us, submissions must be made online through our website, the template of full paper can be downloaded here: https://conference.feb.uns.ac.id/2022//
Please submit your full paper to our email: incredible.febuns@gmail.com and this is a final reminder before the deadlines (August 22nd, 2022).
Please read the submission guide and Frequently Asked Question on our website page. All papers will be reviewed by our speakers before being submitted to a specific journal.
More info, please visit the website or contact provided below:
🌐 https://conference.feb.uns.ac.id/2022/
📧 Email: incredible.febuns@gmail.com
📞 Phone (WA):
+6281578855662 (Malik)
+6282133700869 (Pram)
EVENT SPEAKERS
• Session 1 : Economics Prof. Dr. Zulkefly Abdul Karim (Universiti Kebangsaan Malaysia) Prof. Dr. Siong Hook Law (Universiti Putra Malaysia) • Session 2 : Business Prof. Dr. Noor Hazlina Ahmad (Universiti Sains Malaysia) Dr. Catur Sugiarto (Universitas Sebelas Maret) • Session 3: Accounting Prof. Dr. Normah Omar (Universiti Teknologi MARA) *in confirmation Prof. Dr. Doddy Setiawan (Universitas Sebelas Maret)