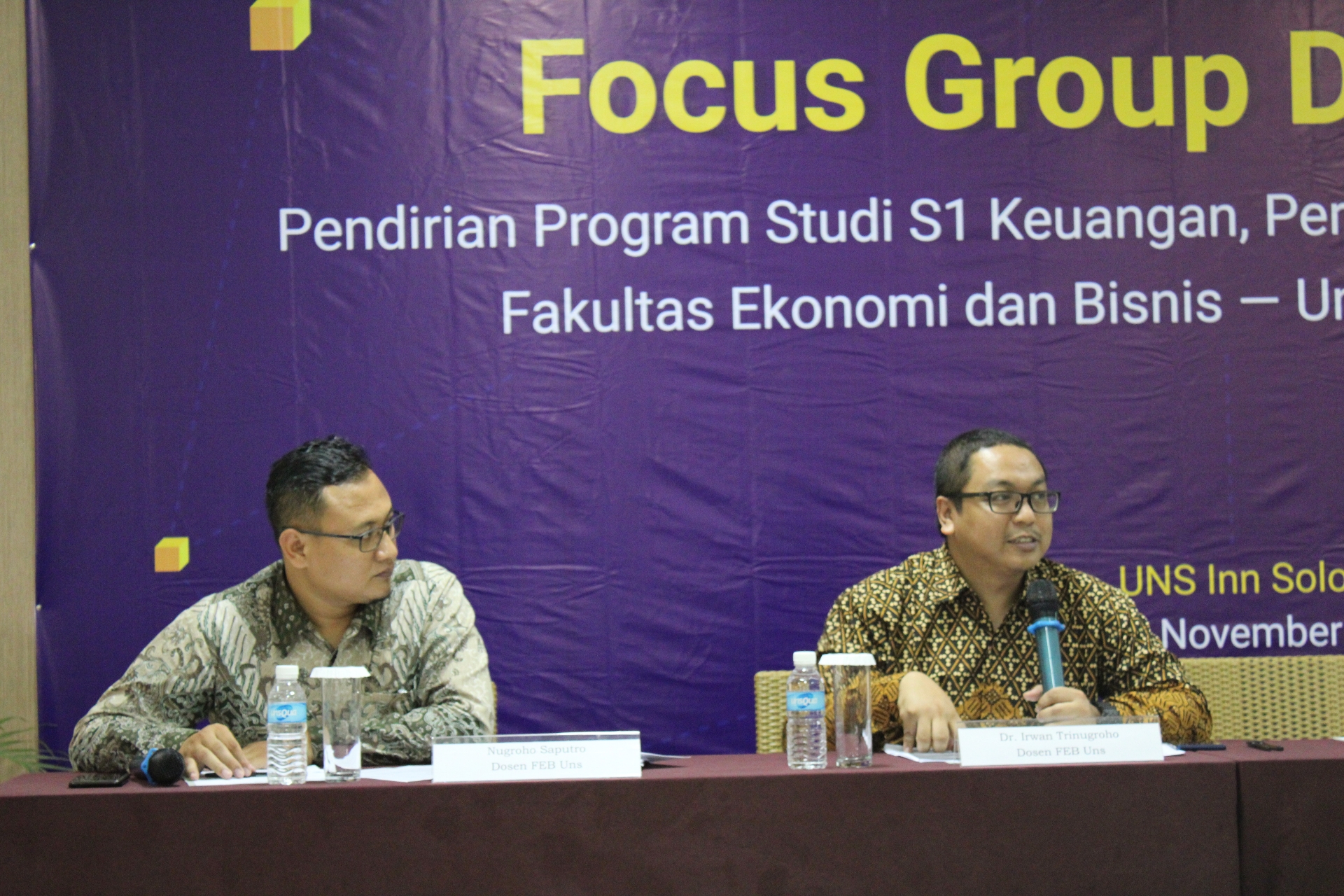 FEB UNS Held a Focus Group Discussion on the Establishment of the New Study Program in Fintech
Currently there is a limited University in Indonesia that offers a study program in Banking and Finance. Moreover, the absence of special program in Financial Technology or Digital Finance in Indonesia motivate the Faculty of Economics and Business, Universitas Sebelas Maret (FEB UNS) to establish a new Study Program in Finance, Banking, and Financial Technology. Further, more than 50% of the professional in finance in Indonesia is graduated from foreign universities, while the curriculum of the existing study program is not in tune with the industrial demand and regulator. This was expressed by Irwan Trinugroho, PhD during the Focus Group Discussion (FGD), Wednesday, November 20, 2019.
The FGD does not only invite academician, but also regulators from Bank Indonesia, the Financial Services Authority of Indonesia (OJK), and Indonesia Deposit Insurance Corporation (LPS), banking industry, Fintech companies, and e-commerce. Dr. Irwan mentions that the establishment of this Study Program is feasible for UNS, because UNS has an established reputation both at national and international level, supported with the quality of research in banking and finance from the UNS. Moreover, UNS has a wide international network with reputable international universities. UNS also become the coordinator for the Capacity Building Erasmus+ Program in "OPTimizing Research and Doctoral Programme in Banking and Finance in Indonesian universities" (OPTBANK) with the funding from the European Commission.
The FGD that was opened by the Vice Rector in Academic Affairs of UNS, Prof. Ahmad Yunus, receive various inputs from the participants with focus on the curriculum for the Study Program. "This FGD is the second FGD on the establishment of this study program, we expect that our discussion will be more focussed on the curriculum for the Study Program in Finance, Banking, and Financial Technology," Dr. Irwan says.