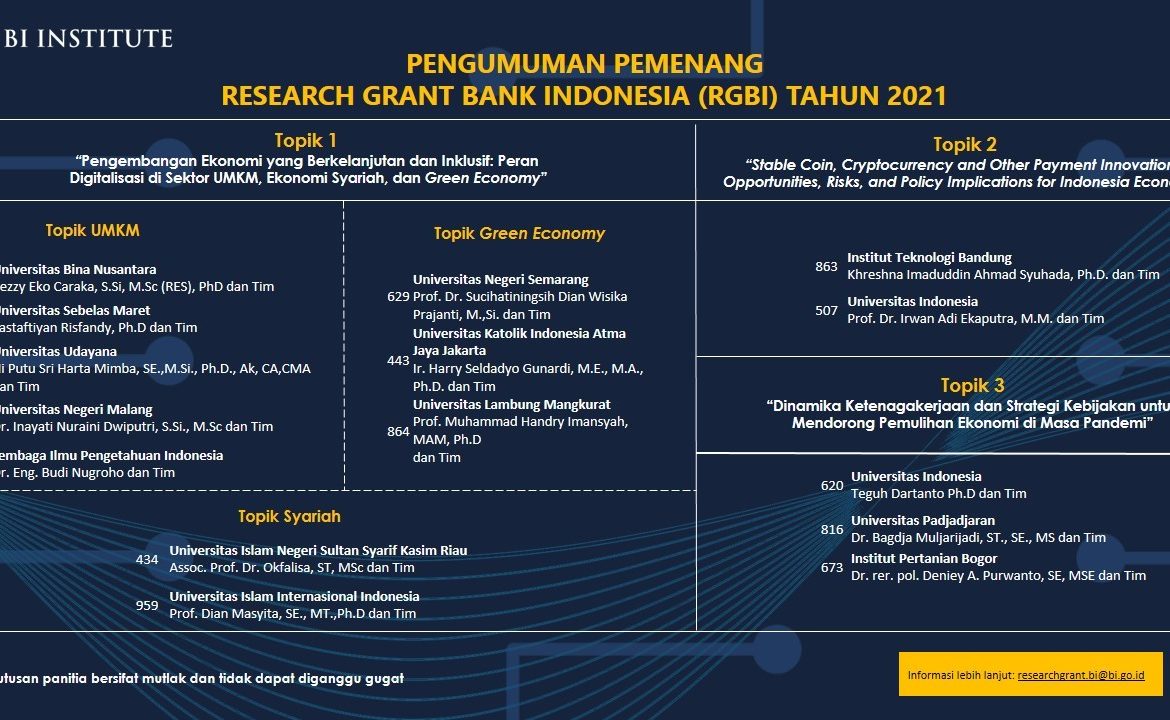 Tim Peneliti FEB UNS Raih Research Grant Bank Indonesia 2021
Tim Peneliti  Fakultas Ekonomi dan Bisnis (FEB) Universitas Sebelas Maret (UNS) berhasil memenangkan Research Grant Bank Indonesia (RGBI) Tahun 2021. RGBI merupakan program pemberian hibah kompetisi riset oleh Bank Indonesia yang bertaraf internasional.
Tim peneliti diketuai oleh Tastaftiyan Risfandy, Ph.D., Dosen FEB UNS, dengan anggotanya yakni Prof. Dr. Mansor Ibrahim dari International Center for Education in Islamic Finance (INCEIF-Malaysia), dan Inas Nurfadia Futri, S.M., alumni FEB UNS Tahun 2021.
Topik "Digital Finance, Household Consumption, and Covid-19 Pandemic: Evidence from Indonesia"yang diangkat tim berhasil menjadi salah satu pemenang kompetisi hibah riset dari ratusan proposal penelitian yang masuk.
RGBI tahun ini diikuti oleh 1334 akun yang mendaftar dengan 454 proposal penelitian. Dari ratusan proposal penelitian yang masuk, dipilih 24 tim untuk maju ke tahap presentasi dan kemudian menetapkan pemenang hibah riset.
Hibah RGBI 2021 memiliki tiga topik penelitian untuk diajukan. Pertama, Pengembangan ekonomi yang berkelanjutan dan inklusif: Peran digitalisasi di sektor UMKM, Ekonomi Syariah, dan Green Economy. Kedua, Stable Coin, Cryptocurrency and Other Payment Innovations: Opportunities, Risk, and Policy Implication for Indonesia Economy. Ketiga, Dinamika ketenagakerjaan dan strategi kebijakan untuk mendorong pemulihan ekonomi di masa pandemi.
Saat dihubungi Media FEB, Tastaftiyan menyampaikan bahwa timnya memiliki keyakinan jika rencana penelitian itu ditulis dengan baik, dengan metodologi yang tepat, dan isu serta kontribusinya terkini akan memiliki peluang untuk bersaing dalam pendanaan maupun publikasi ilmiah.
"Tim kami berusaha untuk mengangkat isu terkini tentang Pandemi Covid-19 dan Keuangan Digital serta kontribusinya, Alhamdulillah akhirnya tim kami bisa menjadi salah satu pemenang RGBI " ungkapnya.
Hasil dari penelitian ini diharapkan dapat dipublikasikan di jurnal internasional untuk menambah wawasan dan studi penelitian kedepannya. (Humas – FEB)
Sumber: Tastaftiyan Risfandy