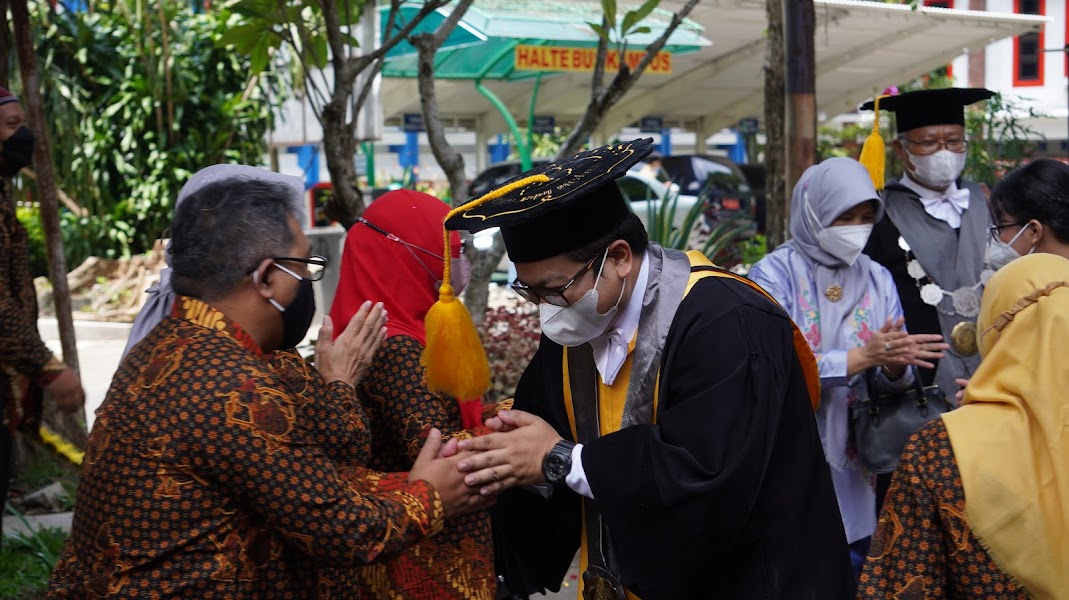 Dean of FEB UNS: Prof. Irwan is an Extraordinary Professor
The Academic Members of the Faculty of Economics and Business (FEB) UNS celebrate the inauguration of a new professor in Financial Management, Prof. Irwan Trinugroho, M.Sc, Ph.D. The new professor's inauguration ceremony took place on Thursday (12/30/2021) through a hybrid event at the UNS Auditorium, Zoom Cloud Meeting, and UNS Youtube Livestream.
Prof. Irwan is an exceptional professor for inaugurated as a professor at a very young age, 37 years old. What is more astonishing is that his journey to accomplish this achievement was speedily and adorned with outstanding achievements. This message was conveyed by the Dean of FEB UNS, Prof. Djoko Suhardjanto, M. Com (Hons)., Ph.D., Ak., in his remarks during the 'Mangayubagyo' (t/n: a celebration of special achievement) Professor Inauguration of Prof. Irwan Trinugroho, at the Building 3 FEB UNS (FEB UNS Auditorium).
"Today is a happy day, and we have a prodigious professor—the youngest professor at UNS, at the age of 37 years old. The journey to reach the title is extraordinary and significantly swift. His achievements are wonderful, with a total of 54 publications, 19 of which are published in Scopus Q1 journals. Prof. Irwan also holds important positions at UNS and contributes to the nation. This achievement is extraordinary, and he is a role model for all of us," he said proudly.
Hopefully, Prof. Irwan's inauguration will inspire other lecturers to become a professor and contribute to FEB and UNS's achievements in the international arena.
Meanwhile, Prof. Irwan was extremely touched and grateful for the celebration at FEB. Although recently he rarely visited FEB physically, for him, FEB is still his home. He invited the FEB academic community always to maintain solidarity. "Thank you, without the help of FEB faculty members, I would not have reached this accomplishment. FEB is my home, and I will do anything for FEB, always keep the solidarity and collaboration in FEB UNS," he said.
The welcoming ceremony for Prof. Irwan Trinugroho at FEB was attended by leaders, educators, and academic support staff in FEB UNS. Prior to the welcoming ceremony, the attending guests hosted a gathering to witness the professor's inauguration procession through UNS virtual channel. (Humas FEB)